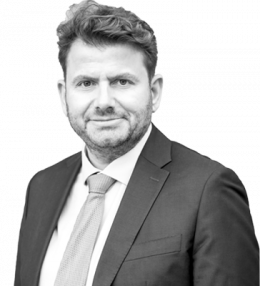 Bar Qualification
Attorney and Counselor-at-law (New York State Bar)
Avocat à la Cour (Paris Bar)
Avocat fiduciaire
Spoken languages
French (native)
English (fluent)
Italian (conversational)
Spanish (basic)
Marc Barennes is a co-founder and partner with bureau Brandeis Paris. He benefits from a unique experience in the fields of competition litigation, class actions, litigation before the EU Courts and litigation finance.
Over the course of the past 23 years, he has been acting in the field of competition law in Paris, Brussels and Luxembourg successively as a defense lawyer with a US law firm, a European Commission official, a senior EU Court of Justice advisor (référendaire), a senior executive and board member of a company specialized in bringing damages claims and a plaintiff attorney.
In his various roles, Marc has been involved in all the assessment, management, investigative, administrative, and judicial stages of some of the most high-profile cartel, abuse of dominance and State aid procedures in Europe.
He played a leading role or contributed directly to numerous ground-breaking EU Competition law and State Aid cases, a handful of which gave rise to eight and nine figure fines, recovery orders or damages and set a precedent in their fields. While working at the General Court of the European Union, he drafted more than 100 rulings and was directly involved in more than 350 cases.
In the public antitrust enforcement field, Marc has first-hand experience in advocating, enforcing, managing, litigating or settling high-stake antitrust, cartel, State aid, and merger cases before the antitrust agencies and courts.
In the private antitrust enforcement field, he has acquired specific experience in assessing, funding, aggregating, and managing individual and collective damages claims before the courts in several jurisdictions in Europe.
In addition to his lawyer practice, Marc regularly lectures, speaks and publishes articles in the legal areas of public and private antitrust enforcement, State Aids, as well as of litigation funding. He teaches "Global competition litigation", "Antitrust Class Actions in Europe" and "Litigation funding" at the French leading School of Law Sciences Po Paris since 2014. Since 2005, he has spoken in more than 30 antitrust conferences and seminars and published more than twenty articles and blogs in the field of antitrust litigation, public enforcement, private enforcement and litigation funding.
Marc has been since 2012 a Non-Governmental Advisor (NGA) for more than 12 years, first to the European Commission and later to the French Autorité de la concurrence and the Luxembourg Conseil de la concurrence for the International Competition Network (ICN) which gathers all the competition authorities in the world.
Academic experience
Sciences Po Paris law school (Guest lecturer since 2014)
School of law Nancy (Guest lecturer in State Aid law from 2010 to 2014)
Zhaw University/United Nations Conference on Trade and Development (annual speaker on cartels 2014-2020)
Government service
International Competition network (Non-Governmental Advisor for the European Commission from 2011 until 2018, for the French Competition Authority from 2018 until 2022, and for the Luxembourgish competition authority since 2014)
EU Court of Justice, the General Court (référendaire for a judge and two Presidents of Chambers, 2006-2018)
EU Commission (agent in the Cartels Directorate of DG COMP, 2004-2006)
EU Council of Ministers (trainee in the Legal Service)
Education
LL.M. (Northwestern University/Chicago, 2002)
LL.M. in business and contract law (Montpellier University/France, 1998)
LL.B. in business law (Paris-Sorbonne University/France, 1997)